I'm a bookworm. I looooooooove books. Unfortunately, I live with some people who aren't as passionate as me. So it's not always a booklover's paradise at home. If you're reading this post, you are either the bookworm people have to live with (and you are laughing maniacally at the torture you inflict on others) or you are the poor soul who lives with someone whose books take up nearly every space in the room.
If you're the former, keep laughing like a villain. If you're the latter, I virtually pat you on the back in semi-genuine sympathy because these are probably the things you have to live with:
1. Your bookworm loves books, but 

NOT

 every book in the world. Duh.
The bookworm you live with has tons of books, and when it's time to give them a gift, you think it's easy. You think you know what to give them…
BUT!
The books they're waiting for is too expensive so you settle for something else. You go to the bookstore and think, "Oh maybe she'll love this." You hesitate because you're not sure. "Does she have a copy of this already?" You pick several other books, debate, then buy. But you don't expect the expression on their face when you give the book because:
a) They already have a copy of that book and they weren't exactly enthusiastic about getting another one.
b) They despise that genre!
c) They despise that book even if it is in the genre they love!
2. You must make space for your bookworm's books on your shelves.
Picture frames, two or three books, figurines, your childhood teddy bear, and that picture of you with Stan Lee – all that have to go because your bookworm needs more shelf space.
You can just say, "NO!" You can even put your foot down and say, "I will throw out your other books if you keep buying more!" like my own mother threatened.
But in the end, you will relent (like my dear mother) because if you don't:
a) There will be books littered everywhere – bedside table, vacant chairs, bathroom cabinets, kitchen counters, plastic boxes, treasure chests, cardboard boxes, under the bed, under your favorite chair, and all the extra spaces in the bedroom.
b) Your bookworm will be very, very disappointed and sad.
c) Your bookworm will throw a fit until you give in.
3. Your bookworm's gadgets are filled with reading apps.
You're bored. You forgot your phone. You see your bookworm's phone or tablet and think, "Oooh, what games can I play here?"
But when you open it, you go, "Whaaaat? Where's Candy Crush? Clash of Clans? All I see are Kindle, Kobo, Moon Reader, Google Books, Goodreads, Tumblr, Twitter, Pocket, Bookari!"
Get used to it. Don't be surprise anymore. You're living with a bookworm, all right?
4. Your bookworm usually prefers the book to the movie.
More often than not, if you see a really good movie trailer that says "Based on the best-selling novel…" your bookworm probably already read the book – or is planning to before the movie comes out
There are times a bookworm will like the movie and the book even though the two aren't the same, but more often than not THEY WILL RAGE RAGE AGAINST THE DYING OF THE LIGHT because the movie did not give justice to its source material.
When that happens, for the sake of your soul, don't argue. Even if you like the book, just let them rant, nod your head, then give them free food. It'll make things better and soothe that angry dragon.
5. Your bookworm will throw bookish quotes or references at you. Think fast!
Your bookworm is a bookworm. It's par for the course that they will sound like one of John Green's YA protagonists and quote a book at you. It is a truth universally acknowledged that a bookworm in possession of a reservoir of book quotes will throw one at you just to keep you on your toes.
It's all right if you've never read that book before or if you've never heard that quote before. Just patiently remind your bookworm that they are the bookworm.
Sometimes, they won't be satisfied with that so they might start painting book quotes on the bedroom wall, putting up framed quotes in the living room, and buying a blanket book page from another bookworm's Etsy shop. If you suddenly find yourself looking up at the ceiling sporting a Winnie the Pooh quote, be comforted by the fact that it means your bookworm finds you very special.
6. Your bookworm talks about her Goodreads & book blog friends like they live just a block from each other.
If your bookworm is chatty with you, then you might have caught something about someone's book recommendation list, about how one book blogger reviewed this book and your bookworm agrees soooooooooo much or how it's blasphemy that one Goodreads reader has rated their favorite book with one star because HOW DARE THEY?
Just because they met their kindred spirits online, it doesn't mean that your bookworm needs therapy. Trust me, bookworms make great friends. They are very sympathetic and emphatic human beings with great taste in literature.
7. Your bookworm has no money for make-up or sports shoes. But they have money for books.
It's a mystery to you, I know, but it's really easy to believe: Your bookworm will save every penny they have to buy the book they love BUT WILL RARELY SPEND A BUCK FOR MAKE UP OR HAIR GEL.
It's not really that surprising. While a person can both be a fashionista and a bookworm, most of the time, THERE CAN ONLY BE ONE. One mountain cannot contain two tigers. No one can serve two masters.
8. Your bookworm would rather be at home reading than be at a hard-to-get-into party.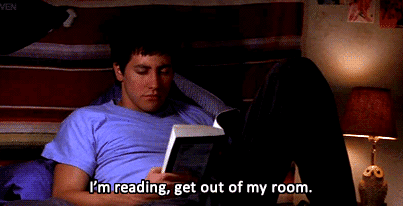 Don't force a bookworm to abandon their adventure in a magical land where they have to save innocent people just to attend a concert or party. If you can't find anyone else to go with you, FINE.
But just so you know, even a concert with free drinks can't replace a night with a good book. You might think your bookworm's missing out on the "fun" but "fun" is relative. Your bookworm loves to read books; ergo, that's fun for them. Trust me, they're not missing out on "fun".
9. Your bookworm will correct your grammar after making dramatically horrified faces.
One of the best ways to be good at a language is to read books in the target language; that's why many bookworms are also grammar connoisseurs. Mind your "you're" and "your", "its" and "it's", and other things that will send you ripping your hair out. But don't worry, they don't think you're stupid. They do it in good fun (and so that you will remember those basic grammar rules and thank them when it pays off later in life).
10. Your bookworm will recommend books for you to read and will pester you until you do.
When you're living with a bookworm, you will be exposed to a list of hundreds and thousands of books that WILL CHANGE YOUR LIFE. But you don't always have the time and the energy to read the book so you'll just ask them. They'll roll their eyes, maybe beg you to just read it so that they'll have someone new to talk to, but if you keep asking, they'll eventually give in, relishing the chance to tell this REALLY AMAZING STORY.
And you'll be fine with it because you love your bookworm. They add to your already crazy life, and you learn a lot from them. So you'll continue to live with your bookworm because you know you'll just miss them if they leave.