According to H2's America's Secret Slang, the term cliffhanger came from serial films that ended with a suspenseful ending meant to bait the viewers to going back to the cinema in a few months' time to watch the next installment. Since most of the films were about cowboys or rangers, many of the scenes ended with their protagonists dangling off a cliff; thus, "cliffhanger".
We love series, right? Harry Potter, The School for Good and Evil, Percy Jackson… Series allow us to bond with fictional characters and live in a made-up world for a few years. More and more books are being sold as series now, as it allows more time for character bonding and more adventure! Thing is, what if each book ends in a cliffhanger?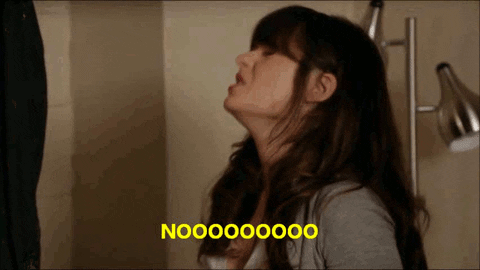 I just finished a book (part of a series) where the main conflict has just been resolved (it was a bit anticlimactic though), only for the main characters to learn that one of their friends was just kidnapped! And this news came in at the last chapter.
So how did I feel? Like this:
Well, to be honest, I shouldn't have been surprised. It's the style of the book, but it can just be so frustrating at times to get a taste of that candy, but to never fully get to eat it till after dinner.
Personally, I like a series where the main conflict gets resolved and there are just a few small details to hint that there's still going to be problems the main characters will face in the next few books – BUT NOT AN ENTIRELY NEW CONFLICT!
Author KM Weiland talked about ending a story (in a series) with a cliffhanger. Someone commented on this article and said that author Brandon Sanderson liked to leave his readers feeling "triumphant" about something, even though his books are in a series.
The School for Good and Evil by Soman Chainani (review here) is notorious for its cliffhanger endings, which is why I was so happy to have read the second and third books in quick succession. I had to wait a few months to read the second book, but although I was frustrated for the first few weeks, I got over it. Because the book was that good and I wanted to keep reading about Chainani's fairy tale retelling.
I like series, but looking for a new one always makes me wary and weary. Will I like the story? Will I like the ending? Will the ending be a cliffhanger that will leave me mad with want for the next book?! And more importantly, please tell me the book won't come out after twelve friggin' months!
How 'bout you guys, do you like cliffhanger endings in a series? Or do you feel like gouging your eyes out and ripping your hair? What books have you read that ended in a cliffhanger?